Buzzer Buses (affectionately known as "The Buzzer") was founded in 1991 and is a well-loved part of the local community enjoying an excellent reputation for caring customer service. The service originated as the Leighton Linslade and District Community Transport Association which ran a single vehicle borrowed from the MS Society and driven by volunteers. This was the first disabled transport service in the town.
Currently Buzzer Buses operate 7 minibuses as well as one smaller vehicle and the organisation is professionally run with full charitable status with the Charity Commission/ A successful lottery funding application in 2000 saw a brand new fleet of four minibuses arrive with a fifth coming on board in 2003. In 2005, we converted from an Industrial Provident Society, changing to our current name Buzzer Buses (Dial a Ride) Ltd and becoming a fully fledged charity and company limited by guarantee. Since then our fleet has grown to the current 8 vehicles – 6 fully adapted wheelchair accessible Renault Master minibuses, 1 easy entry 15 seater VW Master Minibus and a fully adapted wheelchair accessible Fiat Doblo.
Buzzer Buses is run on a day to day basis by our General Manager, Matthew Gale, under the direction of the Trustees who meet every two months to discuss policy and future operations.
Supporting Matthew in the office and the voices you will usually hear on the telephones are Sandra and Debbie who between them cover Monday to Friday between 10am and 4pm.
There are 6 full or part time Buzzer drivers, plus one volunteer:-
Robert
Jim
James
Alan
Linda
Yvonne
Penny (Volunteer driver)
The Trustees are headed by Chair, Pauline O'Toole supported by Vice Chair, David Pipkin, Treasurer, Jan Connolly, John O'Toole, and Mark Freeman.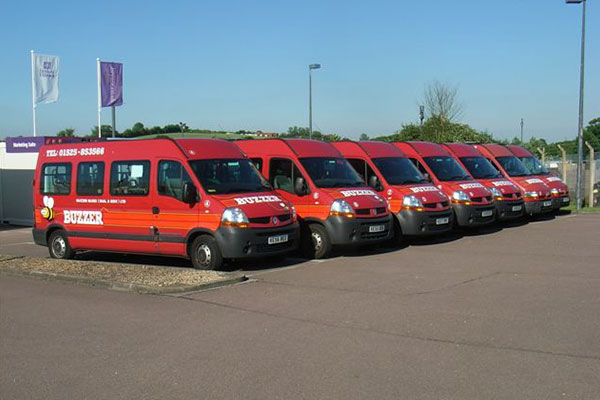 For more information on your flexible ride contact us today